Send a Request And Get a Quote
Countless products
worldwide

await you here!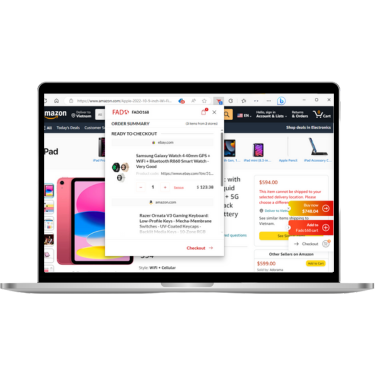 Shopping Assistant
Get ready to upgrade your shopping experience with our sleek browser extension revolutionizing cross-border e-commerce. It's your ultimate shopping companion that helps you to instantly see final prices at your doorstep, make quick purchasing decisions and avoid surprises at check out. Shop til you drop!
Shop 50M+ stores worldwide at your fingertips
Calculate costs with custom duties, taxes and fees
A seamless and secure checkout with multiple stores at once
Compatible with Google Chrome, Microsoft Edge, Safari
The 2023 Costco Holiday Savings Book is here! This year, Costco online and in-warehouse deals will start October 30th and lasall throughout November, featuring four waves of early holiday savings for everyone – not just Costco members.
We've put together the ultimate guide to Walmart's Black Friday and Cyber Monday events this year. Check out the ad scan below to see what will be on sale later this week, as well as the pre-Black Friday deals you can get at Walmart today!
Home Depot has not released its Black Friday 2023 hours. Last year, discounted prices ran from November 24 to November 30. You can start shopping The Home Depot's Black Friday sale after Thanksgiving and all throughout November.
Black Friday X Cyber Monday 2023: Shop Deals up to 90% Discount from the US, UK, Germany, Japan, France, Australia and Vietnam to Cambodia!
Black Friday 2023 is here, are you ready? Products from many famous brands around the world are waiting for you to get at incredible low prices. Don't miss this golden opportunity because it only comes once a year! If you don't know how to hunt for shocking deals up to 90% off from the US, UK Japan, Germany,... then contact Fado168 immediately.
Billions of items are shockingly discounted on Black Friday x Cyber Monday
Black Friday is set on the fourth Friday of November every year. Black Friday first originated in the US and is now spreading to countries around the world. This year, Black Friday 2023 will fall on November 24. On this day, e-commerce platforms, stores, and supermarkets will continuously offer shock sales, with billions of hot deals reduced by up to 90%.
After Black Friday is the Cyber Monday, taking place on the first Monday after Black Friday. This is a huge discount event like Black Friday, helping customers extend their shopping time for discounted goods, especially technology lovers.